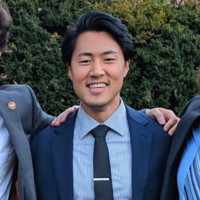 Brian Heseung Kim is a current doctoral student at the University of Virginia's Education Policy program. He studied education from a variety of perspectives throughout his undergraduate degree, working with organizations like America Reads and Counts, Upward Bound, the George Mitchell Scholarship Research Institute, and Let's Get Ready. After graduating with a B.A. in English and Economics from Bowdoin College, Brian received his Maine state teaching certification in English and Social Studies. He taught English at a public high school in southern Maine for three years, eventually serving on the school leadership team. During summers, he taught Game Theory to gifted and talented middle school students through the Johns Hopkins University Center for Talented Youth.
Now in the Education Policy world, his primary research interests revolve around K-12 teachers. More specifically: How can we recruit strong teachers? How can we create working conditions, incentives, and community engagement that encourage them to stay? What can be done to increase the sustainability and status of the profession?
Research has consistently pointed to teachers as the most important school-level factor in improving life-long outcomes for students, and they are often positioned as crucial change agents within schools. As a former public school teacher, he's seen how transformative even a single teacher can be for students and communities when provided with the support, trust, and skills that they need. That in mind, helping our schools remain staffed with the best is his main goal as a researcher.
His current work is focused on finding ways to value the broader contributions that teachers make to their school communities. How do we measure their engagement in meaningful student mentorship, broad student activities, and collegial faculty collaboration? To that end, he is exploring the use of machine learning techniques like natural language processing to systematically and scalably examine the considerable text data naturally accumulated within school systems.
If you are interested in Brian's work and would like to know more, feel free to get in touch (email/twitter/etc.) using the contact page or the links below.
Pictured above: 9th grade students on a geology field trip from Brian's time teaching in Maine
UVA Brian Kim brhkim Brian H Kim Brian H. Kim edpolicyworks nudge4 ed policy