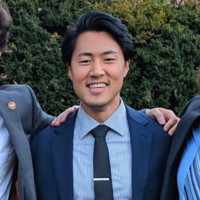 Brian Heseung Kim is a current doctoral student at the University of Virginia's Education Policy program. He studied education from a variety of perspectives throughout his undergraduate degree, working with organizations like America Reads and Counts, Upward Bound, the George Mitchell Scholarship Research Institute, and Let's Get Ready. After graduating with a B.A. in English and Economics from Bowdoin College, Brian received his Maine state teaching certification in English and Social Studies. He taught English at a public high school in southern Maine for three years, eventually serving on the school leadership team. During summers, he taught Game Theory to gifted and talented middle school students through the Johns Hopkins University Center for Talented Youth.
Now in the Education Policy world, his primary research interests revolve around supporting students through major decision-making junctures like the postsecondary application process and the job application process. Research has consistently demonstrated that complexities involved in high-stakes decisions like these disproportionately detriment students from low income backgrounds, students of color, and students who are first in their family to attend college. Moreover, the knowledge and support necessary to navigate these processes successfully are often only accessible to students in more advantaged circumstances.
Having been both a public high school teacher and a counselor for aspiring first-gen students, Brian has seen how many hurdles – formal and informal – these students can face on the way to better opportunities. That in mind, figuring out how to use thoughtful policy to address these hurdles and support students through them is his main goal as a researcher.
His current projects explore the role of teacher recommendation letters in postsecondary access, and the disparities in labor market outcomes between community college graduates from high- and low-income families. Brian also spends time exploring a variety of additional research topics, from applications of machine learning in education, to the role of data visualization in making research accessible to the public, to the retention and development of K-12 teachers.
If you are interested in Brian's work and would like to know more, feel free to get in touch (email/twitter/etc.) using the contact page or the links below.
Pictured above: 9th grade students on a geology field trip from Brian's time teaching in Maine
UVA Brian Kim brhkim Brian H Kim Brian H. Kim edpolicyworks nudge4 ed policy